Since you're probably familiar with Amazon Associates dashboard, let's start with earnings: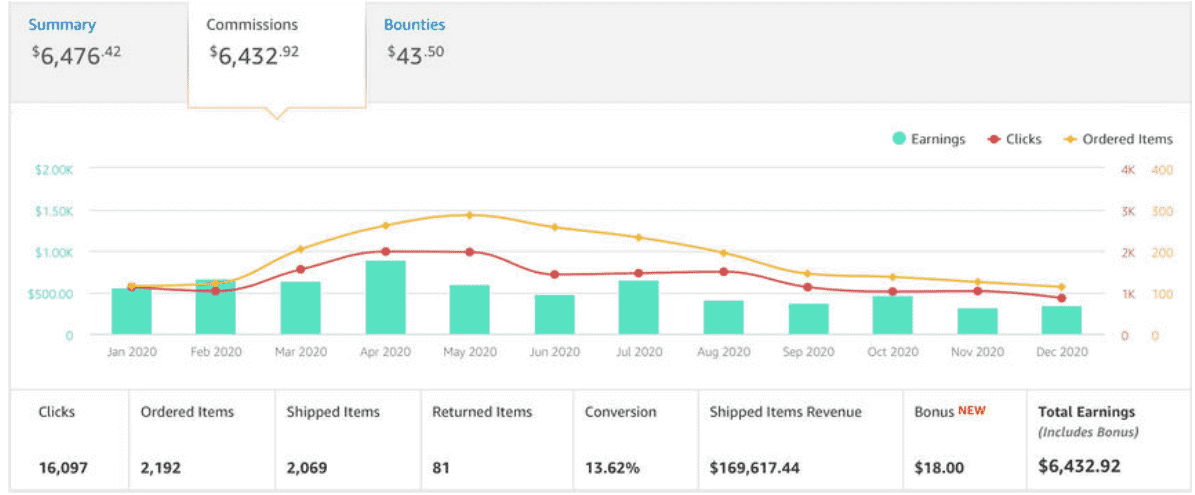 I'm going to be revealing a method that you can set up easily, one that will pretty much earn you cash right away and that you can scale as much as you want. In essence, I created a micro Amazon affiliate website designed to make people CLICK as soon as possible and drove traffic to the site using Instagram Reels and TikTok.
Let's start with the website itself. It's a very simple one page website containing 16 deals – Branded products that are currently on sale on Amazon. This website has one goal and one goal only. Get the visitor to Amazon AS SOON AS POSSIBLE. We don't want people reading articles, comparing products or diving in too deep. We want the visitor to move to Amazon and let the Amazon do the converting for you.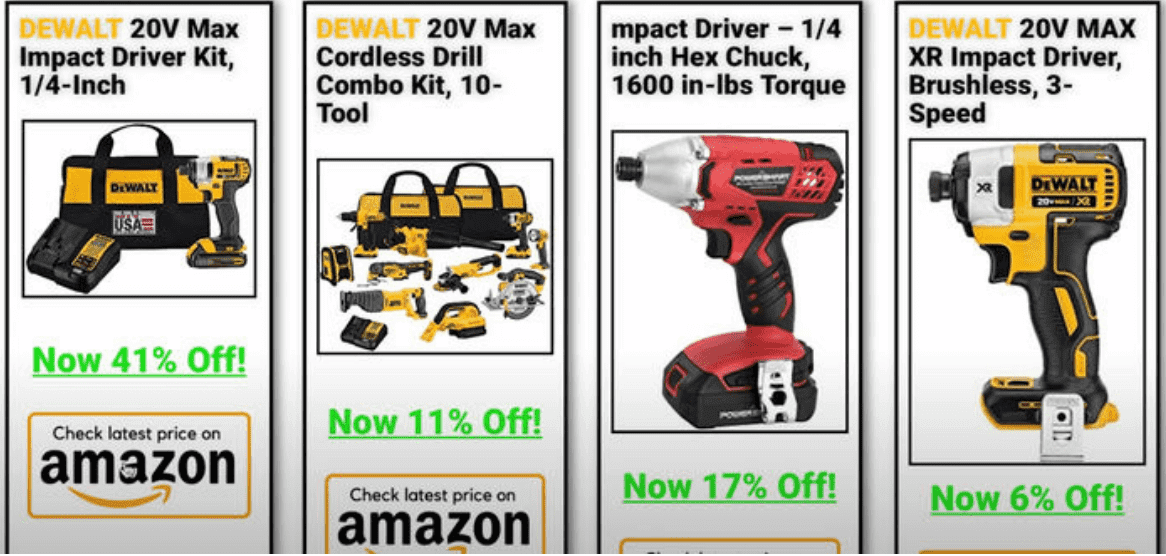 The whole website pretty much looked like this. Simple and with one goal – make people click ASAP.
If you didn't know, Amazon is a conversion machine. Even if the visitor doesn't buy the product he clicked on, he most likely will buy something else and guess what – you still get commission for that. So if you're promoting a 20$ hammer and someone goes on to buy a 5000$ lawn mower, you will get a fat commision for that as well. As you can see I've focused on one niche – power tools that are currently on sale on Amazon.
Next comes the traffic source – main Tiktok and secondary Instagram account. I created an account on Instagram which essentially focuses on a niche where lots of people need and use power tools – woodworking and carpentry.
That's the kind of content I repost on the account. Unfortunately my TikTok account (where I was the most active) for this project got banned because I was spamming DM and comments too much while testing a new method, but I can still give you a pretty clear idea of how things work.
This is the starter setup I got going.. Simple one page website with Niche specific IG account and/or Tiktok account. I suggest only sticking with Tiktok for this. I chose IG to test out the reels feature when it rolled out and my conclusion is that TikTok is much better for this kind of venture.
Why this system works so well is quite simple. People LOVE deals. Not only that, but people TRUST Amazon. Combine these two things and you got a high converting money making system. High traffic potential from tiktok + High conversion rates of Amazon = Proffit. From posting 2 reels on IG I made $26 on Amazon And this is how much I made from TikTok(check print screen on the top of the article).
Sourcing content
If you're worried about content production for social media, I recommend going with this account model. Not only you don't have to EVER show your face, but finding content is so easy. For my power tools niche, I posted mainly Fail and Win clips I found on Youtube. To adapt the Youtube content to Tiktok you need to do following:
Go to Youtube and write: "Your niche + Win/Fail" For my niche that would be "Carpentry fails wins" why carpentry? Because I want to target people who are carpenters because these people use a lot of power tools. You could also target DIY, WoodWorking, etc with this setup and still get traffic.
Next, choose a video that has the most views and download it. When that's done, use a video editing software to cut up the video in each individual clip and save them in a separate folder.
Posting to TikTok.
Before you post to Tiktok, follow a bunch of accounts in the carpentry niche and see save sounds of tiktoks that went viral for these creators. This is IMPORTANT. Then, create a new Tiktok, upload one of your clips and fit it to screen. Then, in blank spaces add some stickers, text where it fits the video and generally spice it up a little. Here's an example of a good Tiktok.
For caption, write "Unbelievably cheap power tools on Amazon. Link in Bio." I used variations of this phrase for pretty much all my Tiktoks. This is a really easy way to earn cash with Amazon affiliates and Tiktok. Now I do realise that there are better niches than power tools to push on tiktok, but I thought that's a low competition niche and it worked really well for me.
I think the real money with Amazon affiliates is in GADGETS niche where you showcase cool gadgets that you found on Amazon. Here's the most famous example: @TheJungleBadger.