Look, I'm not gonna bore you with a long and sappy story about how I grew up in a run down neighborhood and ate nothing but potatoes as a kid.
I had a perfectly normal life and like you, I got into Internet marketing because of 1 main goal – make money while not going to an actual job and basically be your own boss.
I understood early on that time is something you will never get back, but you can always make more money. That's where making money on the internet shines the most. You can get rewarded greatly while not putting in 80 hours a week.
There could be many reasons why you'd want this. For me it was freedom to constantly travel and sleep as long as I wanted (really important).
Ever since I started trying to make money online, I was always looking for methods that are easy to set up and are long lasting. That's exactly what I'm going to share in this article right now..
You've probably heard about a little platform called TikTok with more than 1'000'000'000 users. It's a short form video sharing platform with one huge difference from other platforms like youtube and Instagram.
Most of your content (95%) is viewed by people who are NOT your followers. This comes with one huge advantage. If you post a lot of videos, you have a big chance to go viral and reach huge, untapped audiences.
That's perfect if you want to rapidly grow your audience and send traffic to an affiliate link, promote your service or grow your business. So in this article I'm going to show awesome different ways I've made up to 3k a month from tiktok that you can use to start making money from just your phone.
Not only that, I'll provide you with tools and methods to get content, show that content to the USA audience and stay under the radar.
How I Made 25k TikTok followers on Crypto ?
This is an account in which I show my face as I want to grow my personal brand and later redirect these people to Youtube. In my opinion, if you show your face, you will not only grow much quicker on the platform, but also people will trust you more and buy whatever you're promoting.
That's especially important in niches like Crypto, finance and fitness where trust is very important.
Be advised: not showing your face won't impact the views you get – just the rate of people who decide to follow which is much higher for personal accounts.
If you want to build a long term brand, I recommend that you create a personal account in which you show face. Even if you don't speak a lick of English, you can still target and interact with the USA audience. I'll show a little trick later on how to do just that, but first let's talk about monetization. I'm monetizing this account in a unique way.
I'm sending people over to telegram where a bot I made posts new crypto coins that are listed on CoinMarketCap and CoinGecko and every once in a while I post affiliate link to CoinBase.
For each signup I earn about 10USD in Bitcoin which is awesome. But that's not it. I'm working with a developer and we've made a signal group that I'm charging 27$ per month and currently, we have close to 100 members.
That in total brings in more than 2000$ every month and apart from me posting on TikTok, it's relatively passive which is great. Now I don't expect you to develop your own bots and telegram groups, but this just shows you that unique twists pay off. You can easily just have an affiliate link with prelander in your tiktok bio and make money so don't get scared.
This is the funnel that I use to monetize my Crypto account:
People watch my videos and gain interest in product I promote.
The click link in my bio which takes them to my preloader
From there, they either go sign up to my telegram group or go directly to Coinbase and create an account.
Content Breakdown: My absolute favourite type of content to make is just copy pasting tiktoks that have gone extremely viral and replicate them with my own twist. Now im my niche, which is crypto for this account, most viral tiktoks are:
Guides (hard to make, takes a long time) – See Example
Crypto picks (you need real knowledge to make good picks) – See Example
Reactions to memes and tweets (bingo) – See Example
Reactions to memes and trending topics are PERFECT content to make when starting out for a multitude of reasons. They're extremely easy and fast to make, you can make 10+ a day ( you only need 3-5 videos posted per day ), you DON'T need to talk while still showing your face which is important for branding and TRUST and the viral factor is HUGE. To make these tiktoks, you need to find recent viral memes or tweets from authorities in your niche.
Go to Google and write "NICHE memes reddit". For my niche that would be "crypto memes reddit" you should find a big subreddit, sort posts by top rated and choose 1 month time frame. Now choose memes that are not videos and are mostly text based.
Then go over to tiktok, create a new video and choose the greenscreen image effect. Place your meme on top of the frame and choose a sound from a viral tiktok in your niche. (see finding sounds section) And then record yourself just making an expression.
Here are some of my top performing ones: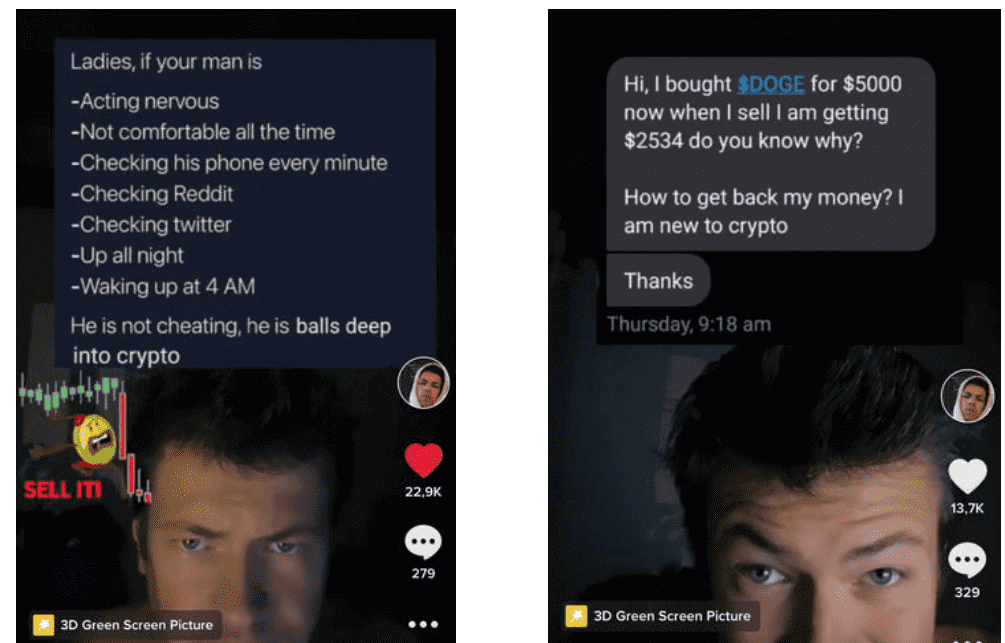 And if we take a look at analytics, you'll see that most of my audience for these videos are from the USA even when this account is a Europe based account.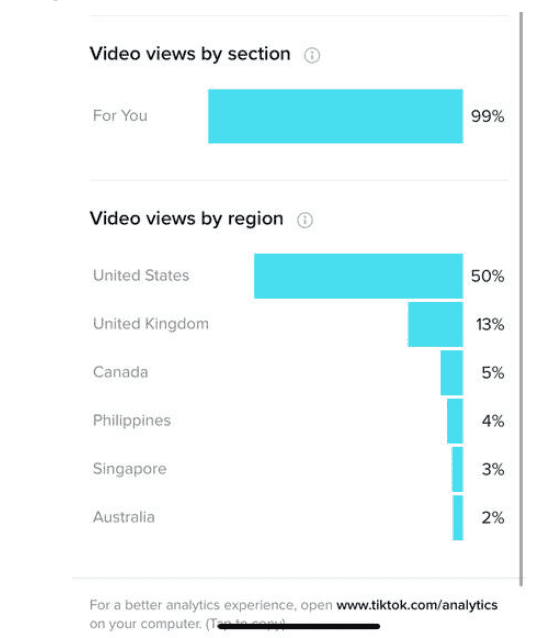 Generally, this is the same for all tiktoks that gone viral for me.
Your video length should be no longer than 7-9 seconds. Why? Because if your video is short, people won't have time to read the meme in time and they will watch your video multiple times which is a HUGE signal for tiktok that your video is good and should be pushed to a wider audience.
Now, write up a description by including a question about the meme or your niche in general. This will generate comments which is another good signal for the algorithm. This type of content is awesome to kick start your account growth, but what about making actual money?
Well, for that you need a different type of content – explainer content. You can still make this kind of content without showing your face and still get lots of views while driving traffic to your bio link. In this type of content we want to show BENEFITS of our product (that we're promoting in bio link) and indirectly market it. I'll start with some examples from my account: Example 1 and Example 2.
And they didn't even get that many views, but that's the beauty of TikTok. I just showed the benefits of joining my free group which basically are that you will be the first one to get notified about new crypto projects listed on coin market cap and coin gecko.
It's nothing that special if you think about it, but still, I was able to generate almost 800 signups with just two videos in about 2 weeks time. This type of content is more difficult to make, because you have to think outside the box a little.
Here's some ideas that I came up with for different niches that would work perfectly for tiktok. Use these ideas to generate your own twists for your niches and you will get views.
For weight loss niche: Find a video on youtube of some fitness influencer where they show before and after results. Make a short video and put a text to voice over it and you're ready to go!
For Dog Training Niche: Find videos on youtube and instagram where people are giving dog training tips and cut them to fit a shorter form video.
For Make money niche: Show your earning daily (this is way too easy).
For Travel niche: Make lists of top destinations with pictures from Google.
For Physical product based niche: Find the product being used or reviewed on youtube and cut it to fit shorter form video.
What I've found so far is that if you have a half decent product that you want to push, you don't need to make high quality videos like you would for Facebook ads.
All it takes is that you show the benefits of the product and show the product being in use. Kinda like I showed above, in my crypto bot example. I just showed the RESULTS of my product and people started asking where you can get it and tried to find it in BIO.