For today's businesses, especially for those that operate locally, there are countless ways to present their brand online. Of these, perhaps the most effective is Google Maps Marketing, an essential ingredient in any solid local SEO optimization strategy. In fact, about 80% of Google searches for businesses in the area result in conversions, according to Search Engine Watch.
So, you will need Google Maps to capture the attention of users locally. Let's see how you can do this!
When you search for a product or service locally, the results page will look similar to the example below. Our query was "dentist Piata Universitatii", based in romanian: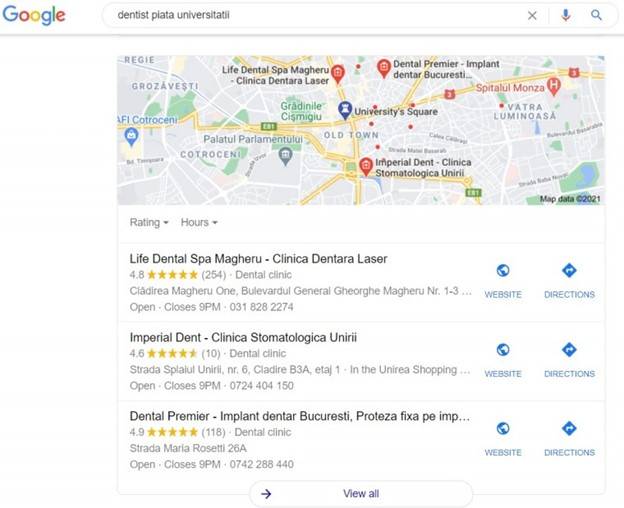 Any business that wants to gain visibility and attract as many customers as possible needs the advantages offered by Google Maps. However, before your business is displayed, you will need to set up and optimize a Google My Business profile.
What is Google My Business?
Also abbreviated GMB, Google My Business is a free platform offered by Google, where local businesses can create a profile that is integrated and displayed in a wide variety of Google products. To qualify for this profile, however, you will need to have either a physical store, where you can make direct contact with customers, or a delivery area for online orders. The profile can present a wide variety of information about your business, such as:
Business name;
Its description;
Reviews;
Phone number;
Address;
Business website;
The category or industry to which the business belongs;
Areas served;
Work schedule;
The products or services your business can offer;
Representative pictures.
Creating a GMB profile certainly brings many advantages. Among the most important are the improvement of your Site's Ranking, the increase of the website traffic and, implicitly, of the income. First of all, let's see what are the ranking factors that Google takes into account and that you need to consider when you build your SEO optimization strategy for Google Maps.
In total, there are 8 ranking factors that contribute to increasing visibility in GM:
Google My Business Indexes
Link indexes
Reviews
On-page optimization
Behavioral indexes
Citation indexes
Social indexes
Customization
Local algorithms work differently from organic searches, analyzing all the above indexes and listing the results based on three factors:
Proximity – How close is that business to the searcher?
Important – How popular is that business?
Relevance – How relevant is the result to the search?
How do I set up my Google My Business account?
It is very simple to do this, but you will have to be careful when completing each field. Enter here to get started. Don't forget to include all the services you offer, along with their descriptions. If you have a new account for a physical location, you'll need to verify it by sending a letter from Google to the specified physical address. Alternatively, if the business already exists on Google, but is not yet verified, you can do so by email or phone.
Specify your activity area
Some businesses, even if they have a physical store, only make deliveries (for example, pizza delivery services). If you do not have a website, you will need to specify the activity area. This may include the names of adjacent localities, or an area around your physical store where you can make deliveries or provide various services.
Here are some important factors in the SEO optimization strategy for Google Maps:
Getting online reviews
Reviews continue to be among the most important metrics to occupy a top position in Google Maps. They contribute to SEO optimization, but also to improving the user experience, who have more confidence in a transparent business that offers quality services or products.
Define a link building strategy locally
Off-page SEO optimization is one of the most important factors that both organic and Google Maps algorithms take into account. You can get links both from locally known publications and from various partnerships with adjacent businesses. For example, if you have a "home cleaning" business, you can make articles on topics such as "arranging a room", "the best vacuum cleaners" or "what is the most appreciated new home gift", to be distributed both in the local press and in local shops with similar specifics, without giving rise to competition.
3. Make sure you don't get spam
Unfortunately, the freedom to create a Google Maps account also means that the ecosystem of this platform can abound in spam. To edit or get rid of this spam, make sure you are logged in to your account, search the Google Maps for that entry (often false, or with a wrong address) and click on "suggest an edit". Depending on the problem, you can select either rename or other details, or "remove this place".
Monitor the results through GMB analytics
In any marketing and SEO optimization strategy, monitoring results is crucial. You can thus change certain aspects or insist on those that bring you proven results. In GMB you can monitor a multitude of factors, including:
Frequency of searches that generated results that include your business;
Type of interaction with potential customers (they entered the website, called, wrote a direct message);
Frequency for certain periods of time, such as the days of the week in which most searches are performed;
The number of pictures that were viewed by users, etc.
Be patient
Like any other marketing and SEO optimization strategy, you will need to be patient for your visibility to increase in Google Maps. In other words, there is no "miracle" solution to be listed in the top 3 results "overnight". Be patient, implement all the strategies discussed above, make sure the information is correct and complete and answer customers whenever they ask you a question. Thus, in time,  you will have the increase of visibility in Google Maps, and your business will register an increasing turnover!